This Saturday night at The Forum in Inglewood, California, former champion Jon Jones and former title challenger Alexander Gustafsson will fight for the UFC Light Heavyweight Championship belt that Daniel Cormier vacated when he moved to heavyweight. In the co-main event, Cris Cyborg will defend her women's featherweight title versus bantamweight champ Amanda Nunes.
UFC 232: JONES VS GUSTAFSSON
Jones and Gustafsson previously met in September of 2013 at UFC 165 with Jones defending his title. Despite the judges ruling Jones the victor by unanimous decision, many analysts felt the Swede won the first three rounds.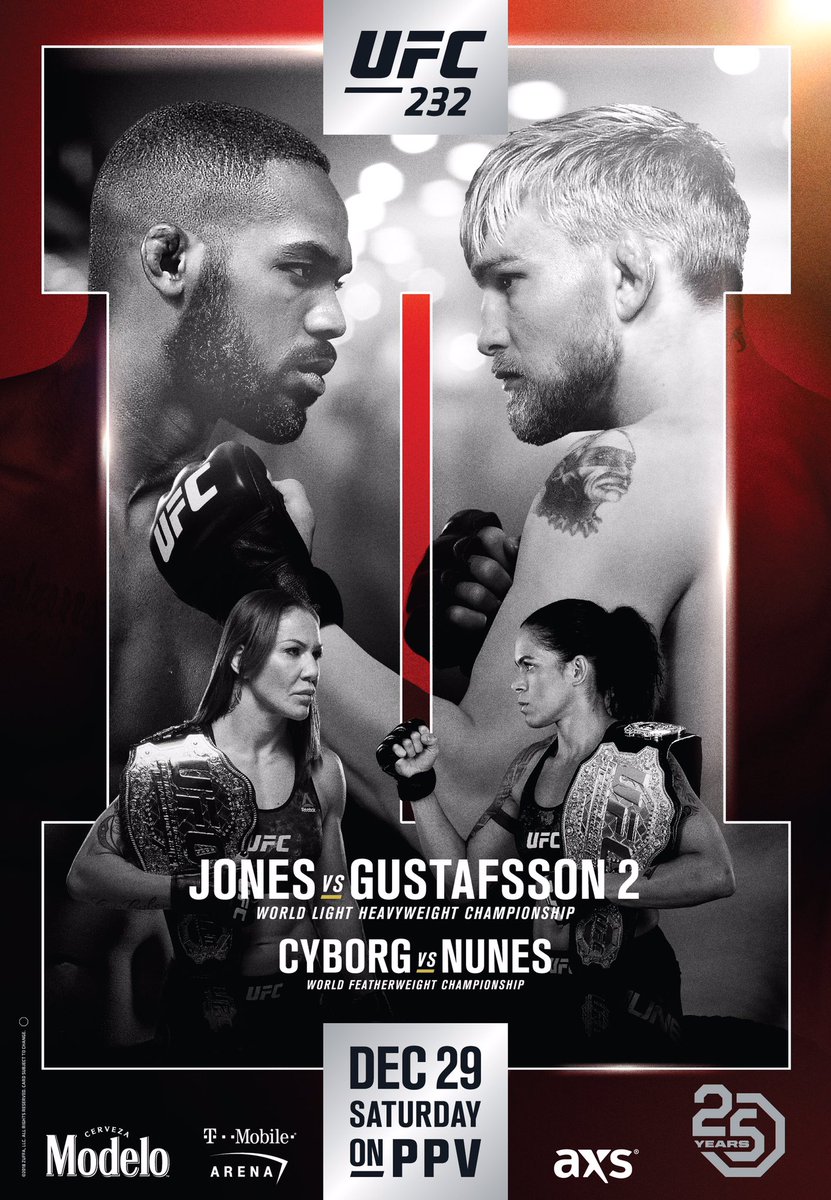 Both fighters are returning to action after lengthy absences; Jones due to a drug suspension, and Gustafsson due to injury.
Aside from being the UFC featherweight champ, Cyborg was also a former Strikeforce and Invicta champion and sports a 20-1 record. If Nunes (16-4) can dethrone her, she will become the first woman to be champion in two divisions simultaneously and third fighter overall (after Conor McGregor at UFC 205 and Cormier at UFC 226).
UFC 232 EMBEDDED: EPISODE 1
On Episode 1 of UFC 232 Embedded, Cyborg works on her cardio and parking skills in the predawn hours. Gustafsson arrives early to Las Vegas from Stockholm, Sweden to get his body adjusted to the time difference, and finishes his camp at the UFC's Performance Institute.
In New York City, Nunes makes media rounds with fiancée Nina Ansaroff, while in Albuquerque, Jones runs wild in a toy store, buying Christmas gifts for needy children on a nearby Indian reservation.
UFC 232 EMBEDDED: EPISODE 2
On Episode 2, Gustafsson meets with media in Las Vegas and Nunes gets a massage at home before packing for her trip. Cyborg puts in time at the gym, then relaxes in a different type of cage with her cats. Jones proves motivated and menacing in training, and opponent Gustafsson unwinds with his team over boxing.
UFC 232 EMBEDDED: EPISODE 3
On Episode 3, Nunes and her fiancée arrive for their second fight week Christmas in Las Vegas. Cyborg spends Sunday at church, stopping for a photo op with Santa.
Gustafsson takes a helicopter tour of the Grand Canyon to break up the boredom of fight preparation, but when he lands, things are anything but boring as UFC President Dana White summons him to HQ with some shocking news about Jones.
UFC 232 EMBEDDED: EPISODE 4
On Episode 4, Nunes spends Christmas Eve in the gym alongside fiancee Ansaroff and fellow UFC 232 athlete Michael Chiesa. Jones follows suit in Albuquerque, then heads to Las Vegas with welterweight Carlos Condit. Gustafsson checks in to the Las Vegas hotel along with other fighters, as the athletes ready for an unusual two-city fight week.
UFC 232 EMBEDDED: EPISODE 5
On Episode 5, Gustafsson road trips to LA with his team ahead of Saturday's fight. Featherweight Chad Mendes arrives in SoCal, joined by coaches including mentor Urijah Faber. Jones boards the UFC-chartered jet alongside his fellow UFC 232 athletes, including teammates Condit and Andrei Arlovski.
Featherweight Megan Anderson enjoys the jet-setting travel accommodations, as opponent Cat Zingano takes the detour in stride. In LA, Jones and Gustafsson appear at a press conference alongside co-main stars Cyborg and Nunes, with UFC President Dana White hosting. The animosity between the headliners is on full display in front of the raucous crowd.
UFC 232 EMBEDDED: EPISODE 6
On Episode 6, Jones gets motivated to recapture his belt with inspirational photos and quotes. Featherweight Alexander "The Great" Volkanovski cuts weight for what he expects to be a breakthrough fight against veteran Chad Mendes. His fellow Aussie featherweight Anderson makes weight underwater and shares plans for a new addition to her family.
Jones and opponent Gustafsson hit their target numbers at Friday morning's official weigh-in, as do women's featherweight champion Cyborg and her challenger, bantamweight champion Nunes. Then it's one more set of staredowns, this time in front of fans at The Forum.