This Saturday night at T-Mobile Arena in Paradise, Nevada, light heavyweight champion Jon Jones and challenger Thiago Santos will fight for the UFC belt that Jones defended earlier in the year versus Anthony Smith. In the co-main event at UFC 239, women's bantamweight champ Amanda Nunes will mix it up with former champ Holly Holm for the championship.
Jones, widely considered one of the greatest MMA fighters in history — if not the greatest, has looked unstoppable since his return from a suspension for drug use and he is again heavily favored to retain his belt.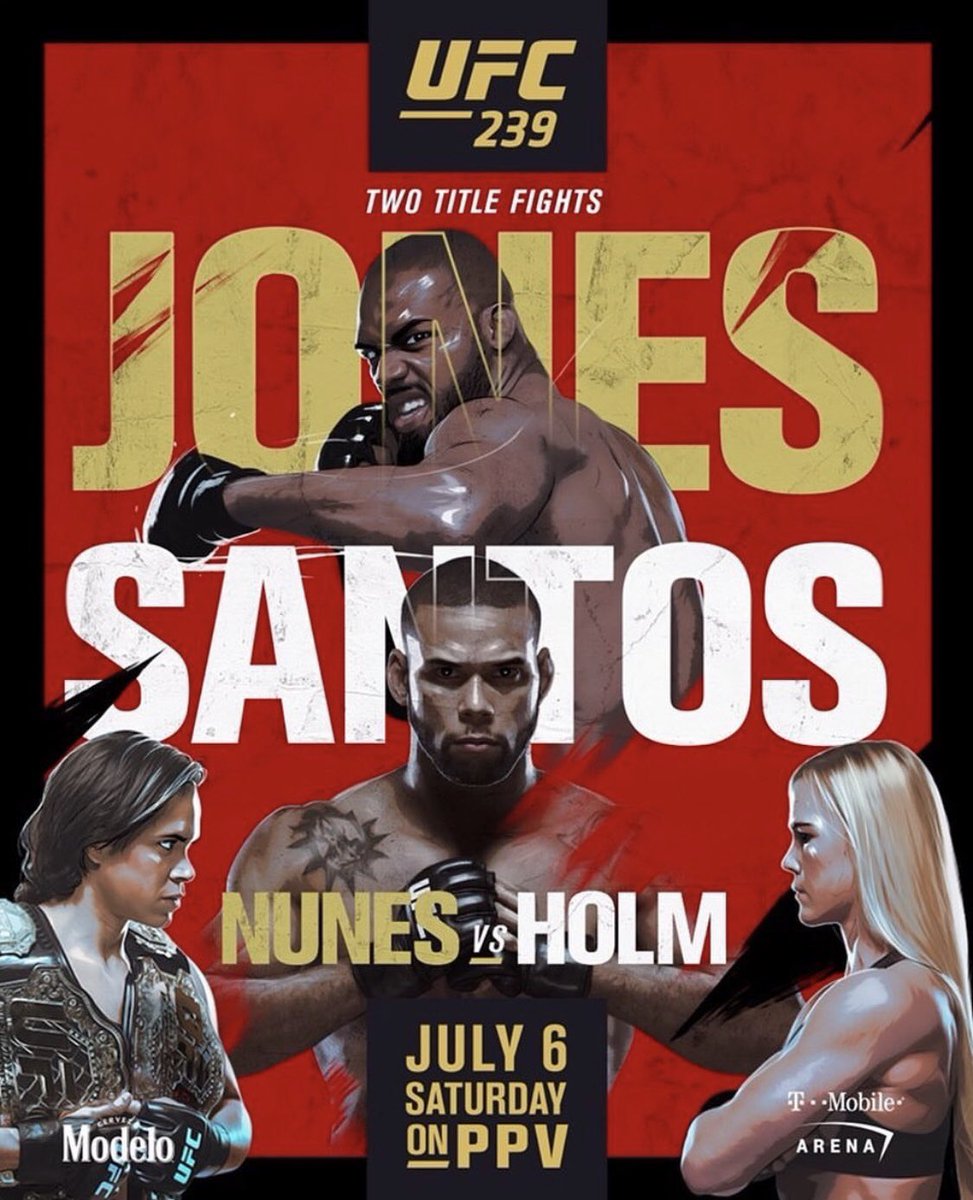 Santos, nicknamed the Sledgehammer, has has won eight of his last nine fights, with all but one of the wins coming by knockou, to improve his overall professional record to 21-6.
Nunes is coming off the greatest fight of her career, last year's first round KO of seemingly unstoppable Chris Cyborg, and will be looking to cement her status as the greatest fighter in women's history. Meanwhile, Holm will be attempting to regain the belt she briefly held after she upset heavily-favored Ronda Rousey at UFC 193 in 2015.
UFC 239 EMBEDDED: EPISODE 1
On Episode 1 of UFC 239 Embedded, Jones pushes himself hard at an S&C session, then roots for a friend's football team. Challenger Santos follows his Las Vegas training session with a Brazilian barbecue and singalong.
Nunes sharpens her skills at the UFC Performance Institute, then watches her teammate Junior Dos Santos in the main event from Minneapolis.
UFC 239 EMBEDDED: EPISODE 2
On Episode 2, Jones and Holm wrap up their camps in their Albuquerque, New Mexico gym then share a meal ahead of their respective title fights. Santos takes advantage of the Las Vegas heat with an outdoor workout, while welterweight Ben Askren eschews the fighter shuttle in favor of a rental car and a scooter.
UFC 239 EMBEDDED: EPISODE 3
On Episode 3, Holm gets pretty in pink at the nail salon, before stars converge at the UFC Performance Institute: former middleweight champion Luke Rockhold and his best friend Lucia, Santos, Nunes, Askren, and his opponent Jorge Masvidal, who uses the facility's technology to measure the power of his head butt.
Holm lands in Vegas alongside friend and teammate Jones, and Nunes does interviews while watching Team USA in the FIFA Women's World Cup.
UFC 239 EMBEDDED: EPISODE 4
On Episode 4, Rockhold turns his suite into a workout facility. Welterweight Michael Chiesa, amused by a message from opponent Diego Sanchez, keeps his training serious while joking around with Rockhold and middleweight champion Israel Adesanya.
Athletes from the top three fights – Jones, Santos, Nunes, Holm, Askren, and Masvidal — entertain fans with their words and moves at a packed open workout session.
UFC 239 EMBEDDED: EPISODE 5
On Episode 5, Chiesa's support system arrives in town. Nunes and fiancée Nina Ansaroff get dressed up for the World MMA Awards, where Nunes wins more gold.
On Thursday, Ultimate Media Day features intense faceoffs between opponents: Chiesa and Sanchez, Askren and Masvidal, Jones and Santos, and Jan Blachowicz and Rockhold, and Nunes and Holly Holm.