This coming Saturday at UFC 242 in Abu Dhabi, United Arab Emirates, lightweight champion Khabib Nurmagomedov will attempt to defend his belt against interim champion Dustin Poirier, while seventh-ranked lightweight Edson Barboza will attempt to defeat "The Irish Dragon" Paul Felder for a second time.
UFC 242: KHABIB VS POIRIER
Nurmagomedov will be returning to the octagon for the first time in over a year, after instigating a brawl outside the cage following his win over Conor McGregor at UFC 229.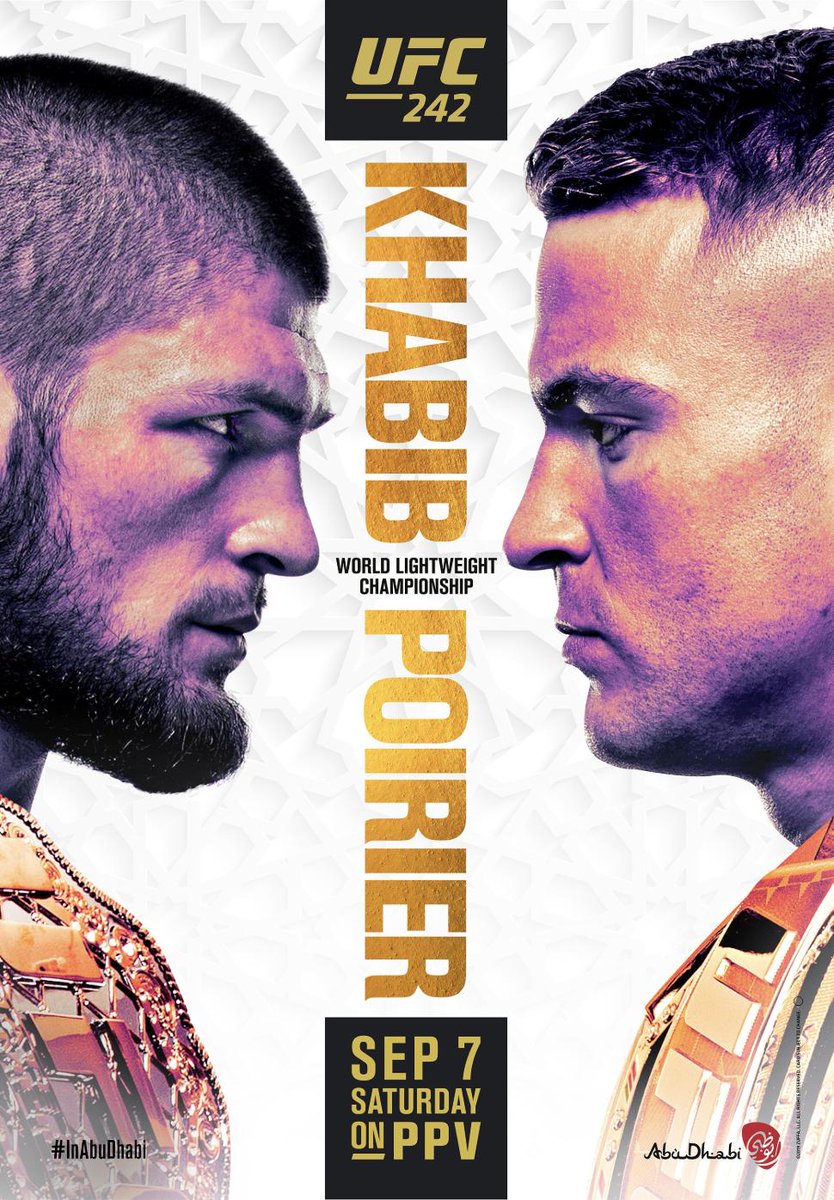 Poirier will enter the fight having coming off four-consecutive impressive wins over Anthony Pettis, Justin Gaethje, Eddie Alvarez and Max Holloway, but to knock off the 27-0 Nurmagomedov, he'll have to make some MMA history.
UFC 242: BARBOZA VS FELDER
Former Muay Thai kickboxer Barboza has gone 4-4 in fights since winning a unanimous decision over Felder in 2015, and is looking to jumpstart his climb back up the rankings with another win over the ginger-haired Philly pugilist.
UFC 242 EMBEDDED: EPISODE 1
On Episode 1 of UFC 242 Embedded, Poirier gets a hero's welcome and a billionaire's ride following a long flight to Abu Dhabi. Co-main event stars Barboza and Felder also arrive, excited for their upcoming rematch. Nurmagomedov trains, surrounded by an expanded team that includes his father and lifelong coach.
UFC 242 EMBEDDED: EPISODE 2
On Episode 2, Nurmagomedov's California-based coach Javier Mendez arrives and joins forces with Khabib's father. Felder trains alongside UFC 242 welterweight Belal Muhammad, UFC athlete Jared Gordon, and a live cobra. Poirier adds Louisiana spice to his fight-week food. After a training session, Barboza has a friendly run-in with Felder, his past and future opponent.
UFC 242 EMBEDDED: EPISODE 3
On Episode 3, Nurmagomedov joins teammates and fellow UFC 242 fighters Islam Makhachev and Zubaira Tukhugov to train under their coaches from two countries. Felder enjoys his time with perfect abs, as opponent Barboza does interviews ahead of their rematch. Poirier chats with a fellow Louisianan, UFC 242 flyweight Andrea Lee.
UFC 242 EMBEDDED: EPISODE 4
On Episode 4, Felder hits the gym to keep his tools sharp for his chosen profession of doing "pow-pow", while Nurmagomedov gets laser-focused on his opponent, Poirier.
Felder, his opponent Barboza, and Poirier all entertain fans at Yas Mall open workouts, but the real cheers come when Nurmagomedov takes the stage.
UFC 242 EMBEDDED: EPISODE 5
On Episode 5, Thursday brings about Ultimate Media Day. Felder and Barboza talk about the differences they expect from their impending rematch, and Nurmagomedov chats backstage with UFC President Dana White. Opponents face off, with stare downs that feature featherweights Zubaira Tukhugov and Lerone Murphy, flyweights Joanne Calderwood and Andrea Lee, heavyweights Curtis Blaydes and Shamil Abdurakhimov and lightweights Islam Makhachev and Davi Ramos.
Finally, Nurmagomedov squares off with Poirier, promising a definitive result in the main event. All of the athletes hit their goals at Friday morning's official weigh-in, which is attended by newly-crowned strawweight champion Weili Zhang.
UFC 242 EMBEDDED: EPISODE 6
On Episode 6, Poirier gets fitted for a traditional kandora in his hotel room. Guest fighters including strawweight Claudia Gadelha, double champion Henry Cejudo and Zhang interact with fans at The Arena on Yas Island. Then the stars of UFC 242 hit the stage for one final face off in front of fans before Saturday's huge event.