This coming Saturday night at UFC 241 in Anaheim, California, heavyweight champion Daniel Cormier will attempt to defend his belt against Stipe Miocic, whom he dethroned last summer. In other highly-anticipated action, welterweights Anthony Pettis and Nate Diaz will meet in the octagon.
UFC 241: CORMIER VS MIOCIC
Cormier has only fought once (a submission victory over Derrick Lewis in November, 2018) since knocking Stipe out at UFC 226, while Stipe has been inactive since their first meeting.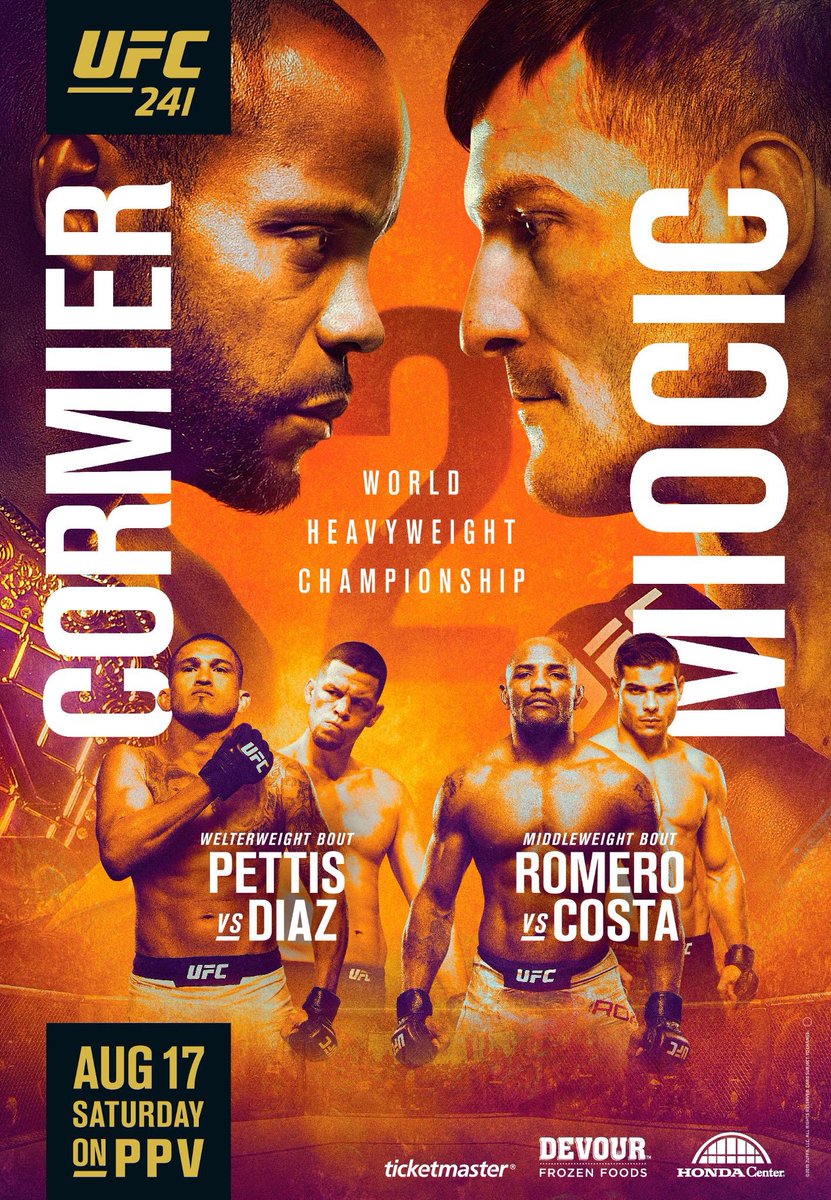 If Cormier is able to make it past Miocic for a second time, he plans to take just one or two fights more before calling it a career.
Diaz has been on a three-year hiatus after splitting a pair of fights with Conor McGregor. Bouts against undefeated lightweight champ, Khabib Nurmagomedov, and welterweight champ, Kamaru Usman, didn't entice the Stockton Slapper like mixing it up with No. 8 ranked Pettis, who he considers to possess a "cool" fighting style.
UFC 241 EMBEDDED: EPISODE 1
On Episode 1 of UFC 241 Embedded, California resident Cormier works out al fresco and underwater at the high school in Gilroy. Miocic, driving his truck, reflects on the year of rest, reinvention and fatherhood he's enjoyed since his last bout against Cormier. Pettis, now a top-10 welterweight, readies his knockout skills for Saturday's bout against Diaz.
UFC 241 EMBEDDED: EPISODE 2
On Episode 2, Cormier cooks for his kids, then previews an upcoming title fight via video game. Miocic visits a Cleveland-area flea market and struggles to master the concept of haggling. Pettis gets out of the gym and goes fishing with his team; as upcoming opponent Diaz turns a beach home into a dojo.
UFC 241 EMBEDDED: EPISODE 3
On Episode 3, Miocic wraps up his Cleveland training camp, while Cormier hits Hollywood, with stops at Extra TV and TMZ. In Milwaukee, Pettis gets in an extra workout, his energy buoyed by his new weight class. Diaz surrounds himself with his team for a dip in the Pacific ocean.
UFC 241 EMBEDDED: EPISODE 4
On Episode 4, Cormier keeps his cool by surrounding himself with his team, even as he shakes the impressively strong hand of his opponent, Miocic. Pettis feels physically primed as he aims to take his emotions out of his upcoming welterweight bout with Diaz.
UFC 241 EMBEDDED: EPISODE 5
On Episode 5, Miocic counsels his coach post wine-glass-injury. At fight week photo sessions, Cormier reveals a superstitious side, middleweight Yoel Romero does pushups, and welterweight Diaz drapes himself in a flag. Cormier, Miocic, Diaz and Pettis attend open workouts, where Cormier's son emcees and Diaz lights up the crowd by lighting up.
UFC 241 EMBEDDED: EPISODE 6
On Episode 6, Cormier throws out the first pitch at an Angels game. Pettis gets a workout in, enjoying how he feels as he approaches welterweight. At Ultimate Media Day, Cormier faces off against Miocic and middleweights Paulo Costa and Romero share a staredown, but Pettis takes the stage solo when opponent Diaz is a no-show.
UFC 241 EMBEDDED: EPISODE 7
On Episode 7, all athletes hit their marks at morning weigh-ins: heavyweight champion Cormier, challenger Miocic, former lightweight champ Pettis and opponent Diaz. Later in the day, the ceremonial event includes intense stare-downs and mean-mugging