This coming Saturday at T-Mobile Arena in Las Vegas, champion Kamaru Usman and Colby Covington will contend for the welterweight belt in the UFC 245 main event. In other action featherweight challenger Alexander Volkanovski will try to wrest the belt from reigning champion Max Holloway.
UFC 245: USMAN VS COVINGTON
For Usman, Saturday's action will be his first fight since winning the welterweight belt from Tyron Woodley in March. The 32-year-old Nigerian is hoping to add to his win streak which currently stands at 14 matches in a row.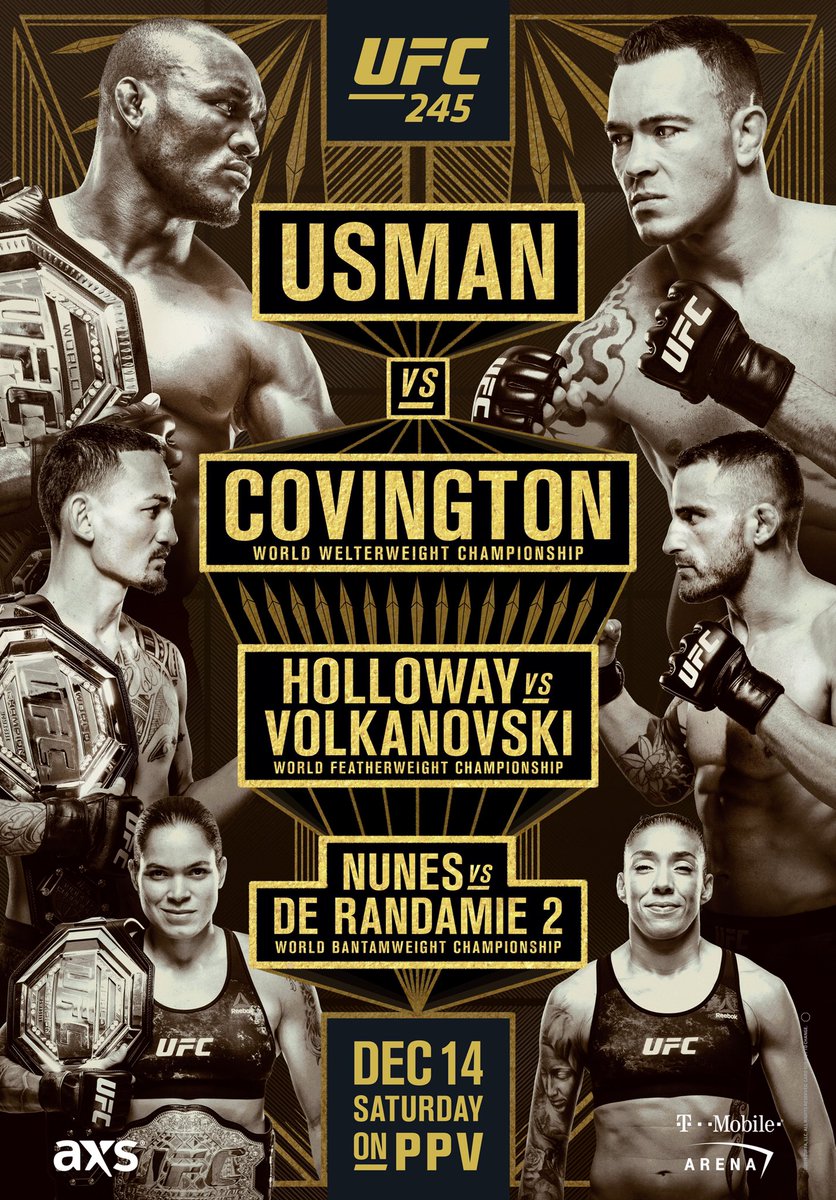 Covington, shares an identical professional 15-1 record with Usman, and hasn't lost since UFC 194 when he was submitted by Warlley Alves in the first round.
UFC 245: HOLLOWAY VS VOLKANOVSKI
Holloway hasn't lost a fight at featherweight since dropping a three-round decision to Conor McGregor way back in 2013, and is a heavy favorite to retain his belt against Volkanovski — despite the latter's 20-1 record.
UFC 245 EMBEDDED: EPISODE 1
On Episode 1 of UFC 245 Embedded, Usman goes from "scruffy" to polished at home and then hits the gym for more finishing touches. Covington arrives in Las Vegas and dedicates his upcoming success to Donald Trump and his sons. Volkanovski makes the long trip from New Zealand with teammate and UFC 245 flyweight Kai Kara France. Holloway works out and horses around with his team at the UFC Performance Institute's hot and cold tubs.
UFC 245 EMBEDDED: EPISODE 2
On Episode 2, Covington enjoys the familiar faces and fond memories at a Las Vegas wrestling tournament. Volkanovski cruises through his workout but struggles with a hotel mini-fridge. Holloway leads his team on a hike at Red Rock Canyon and demonstrates his questionable tracking skills. Double champ Amanda Nunes does media hits and goes sightseeing in Los Angeles.
UFC 245 EMBEDDED: EPISODE 3
On Episode 3, Usman has harsh words for both modern art and his opponent, Covington, who experiences Vegas with a mall massage. Featherweight title challenger Volkanovski and champion Holloway cross paths at fight week check in. Double champ Nunes and fiancé Nina Ansaroff get festive for a holiday photo.
UFC 245 EMBEDDED: EPISODE 4
On Episode 4, UFC Performance Institute hosts a series of athletes getting ready for Saturday: Volkanovski, bantamweight Marlon Moraes and Covington. Volkanovski, Covington and bantamweight Germaine de Randamie answer fan questions at a UFC 245 athlete panel, followed by the event's three belt holders: Usman, Holloway and double champ Nunes.
UFC 245 EMBEDDED: EPISODE 5
On Episode 5, Usman receives support from heavyweight Francis Ngannou. Holloway gets a haircut from his longtime barber, and opponent Volkanovski does an outdoor photo shoot. Bantamweight Hall of Famer Urijah Faber feels fresh ahead of a bout in which he's the underdog. The stars of the night's three title fights attend Ultimate Media Day for interviews and faceoffs. Nunes and Germaine de Randamie have kind words for one another ahead of their championship bout, but the opposite is true for Usman and Covington.
UFC 245 EMBEDDED: EPISODE 6
On Episode 6, Volkanovski trains at the UFC Performance Institute accompanied by middleweight champion Israel Adesanya. Everyone on Friday morning makes weight at the UFC 245: Official weigh-ins. Afterwards Holloway retreats to his room to eat a meal, and get "cupcake wasted." Then it's a final flex-and-faceoff for the crowd at the ceremonial weigh-ins.