This coming Saturday at the Toyota Center in Houston, light heavyweight champion Jon Jones and challenger Dominick Reyes will headline the UFC 247 main card. In other championship action, flyweight Valentina Shevchenko will defend her belt versus Katlyn Chookagian.
Jones, widely considered to be the greatest mixed martial artist of all time, enters the fight with one eye on the heavyweight division where his only real challenges may remain. A win versus Reyes would almost certainly facilitate Jones move up in search of big-name foes.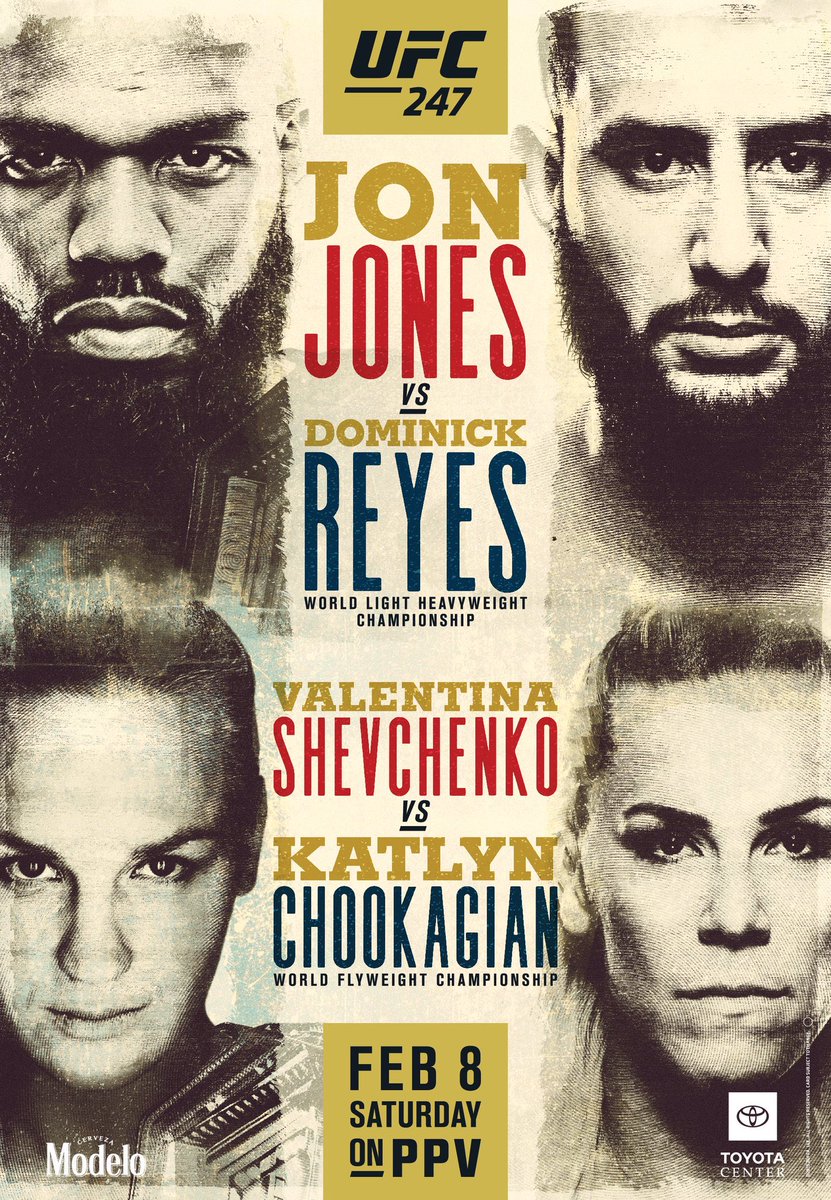 Reyes, who is one of a handful of fighters comparable to Jones in physical stature, will be looking to shock the world and move his professional MMA record to 13-0.
UFC 247 EMBEDDED: EPISODE 1
On Episode 1 of UFC 247 Embedded, Reyes trains in Southern California under Joe "Daddy" Stevenson for his title fight and pays homage to another sports great. Shevchenko finishes her globe-hopping training camp outside of Houston. Challenger Chookagian pursues greatness alongside former champ Frankie Edgar at her home gym in New Jersey. Champ Jon Jones starts his practice with a prayer.
UFC 247 EMBEDDED: EPISODE 2
On Episode 2, Reyes loads up for a travel day and gets fight inspiration from the Super Bowl. Shevchenko draws energy from the water at a Texas beach, then draws in the sand. Chookagian explains the strategy behind her commuter fight camp. On the mats and in the pool, champion Jones is focused and calm ahead of his title defense.
UFC 247 EMBEDDED: EPISODE 3
On Episode 3, Shevchenko shows off her sharpshooting skills. Opponent Chookagian resets with a walk on the beach. Reyes embraces fight week with a high-energy workout and an inspirational Nate Diaz quote. Jones flies to Houston and meets his brother, Arizona Cardinal Chandler Jones. Local heavyweight Derrick Lewis gets his supplement regime approved.
UFC 247 EMBEDDED: EPISODE 4
On Episode 4, Chookagian hits the court at a Houston Rockets game and manages to hit the rim with her free throw shot. Reyes goes jewelry shopping and breaks down his path to victory. Jones enjoys a hearty breakfast and watches more footage on his opponent. Shevchenko keeps busy with hitting mitts and grappling.
UFC 247 EMBEDDED: EPISODE 5
On Episode 5, challengers Chookagian and Reyes join a Jon Anik-hosted athlete panel alongside Ilir Latifi, who makes his heavyweight debut this weekend. After their session, champions Shevchenko and Jones take the stage with Lewis. Chookagian gets in a quick workout, and then the challengers and champions take more questions, this time from reporters, at Ultimate Media Day.
UFC 247 EMBEDDED: EPISODE 6
On Episode 6, Jones enjoys sweet notes from his daughter, a small lunch and big guns. The two title fights are official – and intense – as flyweight queen, Shevchenko faces off against Chookagian, and Jones squares up with Reyes at the ceremonial weigh-in. Middleweight James Krause steps up on very short notice to compete on Saturday.