This coming Saturday at T-Mobile Arena in Pardise, Nevada, middleweight champion Israel Adesanya and challenger Yoel Romero will headline the UFC 248 main card. In other championship action, China's Zhang Weili will defend her strawweight belt versus former champion Joanna Jędrzejczyk.
UFC 248: ADESANYA VS ROMERO
Nigerian New Zealander Adesanya has rocketed in popularity after winning the interim belt in April of last year, and then claiming the unified title with an electrifying KO versus Robert Whitaker in October. He'll be looking to improve his professional MMA record to a perfect 19-0.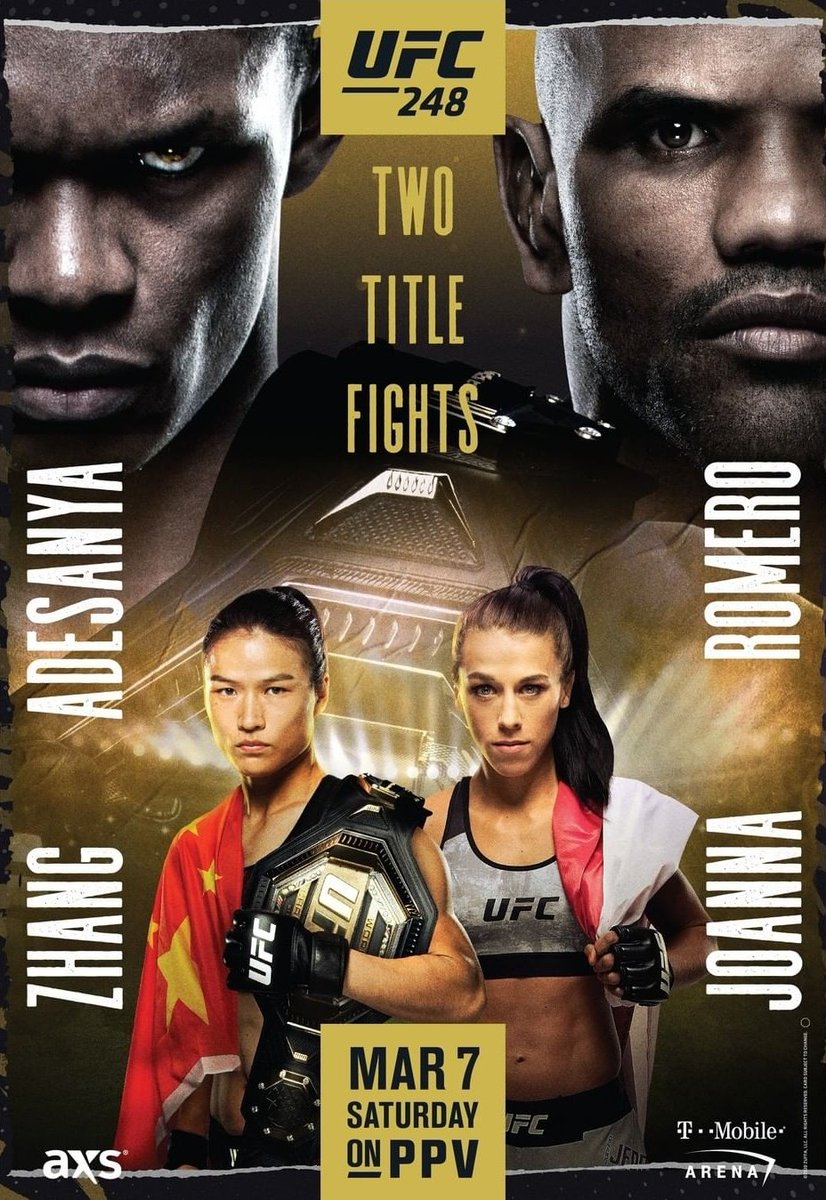 Romero, an Olympic silver medalist in wrestling, is looking to get back in the win column after dropping three of his past four fights by judges decisions.
UFC 248 EMBEDDED: EPISODE 1
On Episode 1 of UFC 248 Embedded, Weili's camp is impacted by coronavirus, while opponent Jedrzejczyk plots a path to recapture the title. Adesanya visualizes a post-fight shower in his hotel room. Bantamweight Sean O'Malley readies after two years away from the sport.
UFC 248 EMBEDDED: EPISODE 2
On Episode 2, Adesanya chooses a car for each day of the week; challenger Romero does LA media and demos moves on Paige VanZant at the TMZ studios. UFC PI is a hub for UFC 248 fighters including Weili, Li Jingliang, O'Malley and Drakkar Klose.
UFC 248 EMBEDDED: EPISODE 3
On Episode 3, Jedrzejczyk does media in NYC, then hits Vegas. Adesaya and team take in the UFC Apex, while Weili gets fitted and photographed. Neil Magny and Jingliang look forward to their clash. Finally, Romero is grateful for his title shot.
UFC 248 EMBEDDED: EPISODE 4
On Episode 4, Weili finds inner peace in the gym, despite missing her dog — named after Fedor Emelienko — and her cat which are back home in China. Jedrzejczyk says she's still the top strawweight, despite lacking the belt. Fans from around the world cheer at open workouts ahead of Adesanya vs. Yoel Romero and Zhang vs. Joanna.
UFC 248 EMBEDDED: EPISODE 5
On Episode 5, Weili, O'Malley and Jingliang train at the UFC Perfomance Institute in Las Vegas. Jedrzejczyk juggles cauliflower ear and stilettos. At media day, Jose Quinonez goes for blood, Zhang practices her English, and headliners Adesanya and Romero face off.
UFC 248 EMBEDDED: EPISODE 6
On Episode 6, the UFC 248 stars make weight Friday morning. O'Malley watches tape and gets his hair braided. Champ Weili faces Jedrzejczyk and champ Adesanya faces Romero at the PM weigh-in, with former champ Tony Ferguson backstage.