This coming Saturday night at UFC 240 in Edmonton, Alberta, Canada, Max Holloway will put his belt on the line against former UFC Lightweight Champion Frankie Edgar, while Cris Cyborg returns to face Felicia Spencer.
UFC 240: HOLLOWAY VS EDGAR
Holloway had his 13-fight win streak ended when he moved up to lightweight to face Dustin Poirer at UFC 236, but now he's looking to pick up where he left off in the featherweight division where he's dominated for over five years.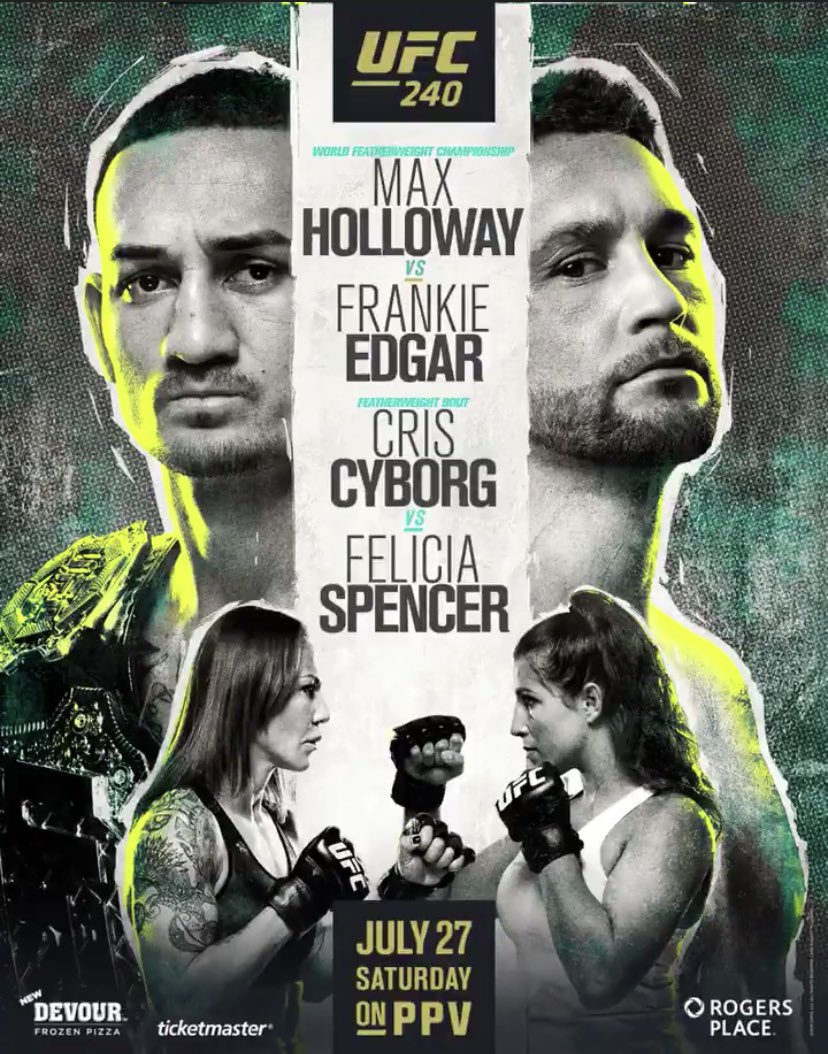 In Edgar, Holloway will be facing an erstwhile champion who ruled supreme at lightweight from 2010 to 2012. Edgar enters the fight coming off a loss to Brian Ortega at UFC 222 in March, which just seven weeks later was followed by an impressive win over Cub Swanson.
UFC 240: CYBORG VS SPENCER
Cyborg, who had an unbeaten string of 21 fights violently interrupted by an Amanda Nunes' head kick at UFC 232, will look to get back to her dominating ways against unbeaten submission-specialist Spencer, a 28-year-old from Montreal.
UFC 240 EMBEDDED: EPISODE 1
On Episode 1 of UFC 240 Embedded, honorary-Canadian Holloway lands in Edmonton and gets starstruck at a car show. Former lightweight champion Frankie Edgar balances work in the gym with family fun. Spencer gets her body ready to stay up late and fight legend Cyborg.
UFC 240 EMBEDDED: EPISODE 2
On Episode 2, Holloway gets an adrenaline fix at an aerial park with a rope course and hikes with his team in Elk Island National Park. Spencer visits a farmers market in Orlando and tries out a new face paint look, while opponent Cris Cyborg focuses on her fingernails in Edmonton.
In Seaside Heights, New Jersey, Edgar makes the most of a hot summer day down by the shore with a run on the boardwalk.
UFC 240 EMBEDDED: EPISODE 3
On Episode 3, Spencer enjoys a final training session with her team, including young students, then finds herself on the same connecting flight as Edgar. Holloway sight-sees in Edmonton, then signs autographs with Cyborg.
UFC 240 EMBEDDED: EPISODE 4
On Episode 4, Holloway guards against mana thievery so he can make the most of his training session, and Cyborg does a media day in Edmonton. Spencer takes in a Canadian first and connects with fans in line to meet her opponent.
Later, the stars of the main and co-main events – Holloway and challenger Edgar, plus Cyborg and Spencer – entertain and engage with fans at open workouts.
UFC 240 EMBEDDED: EPISODE 5
On Episode 5, Holloway ignores his appetite as his team eats their feelings with fight night approaching. Spencer meets the press at Ultimate Media Day, where she faces off in person against opponent Cyborg; Holloway also squares up with challenger Edgar at the event. As weight cuts get underway, Edgar surrounds himself with friends and family.
UFC 240 EMBEDDED: EPISODE 6
On Episode 6, all athletes hit their marks at morning weigh-ins: featherweight champion Max Holloway, challenger Frankie Edgar, women's featherweight Cris Cyborg and opponent Felicia Spencer. Later in the day, the ceremonial event means face paint for the ladies and father-son faceoffs for the headliners.