This coming Saturday at New York City's iconic Madison Square Garden, welterweights Jorge Masvidal and Nate Diaz will contend for the newly-minted BMF (baddest [expletive] in the game) belt in the UFC 244 main event. In other action middleweights Kelvin Gastelum and Darren Till will square off for the opportunity to move up the divisional rankings.
UFC 244: MASVIDAL VS DIAZ
After Diaz returned from a nearly three-year hiatus to defeat Anthony Pettis, he declared himself the "baddest motherf***er in the game" and called out Masvidal for his next opponent.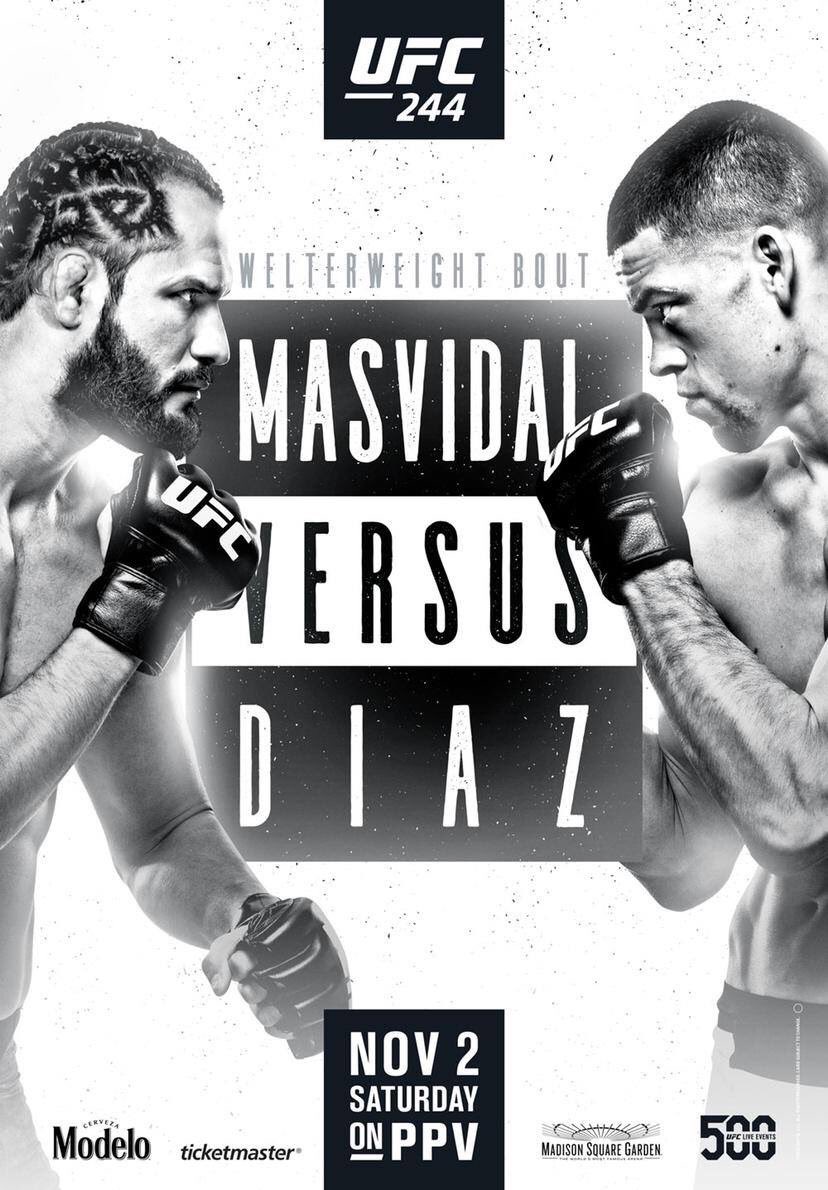 Miami-based Masvidal enters the November 2 battle riding the momentum of two signature knockout victories earlier this year — most recently the fastest finish in UFC history vs Ben Askren.
UFC 244: GASTELUM VS TILL
Gastelum is looking to work his way back to the top of the rankings after losing a middleweight title fight to current undisputed champion Israel Adesanya in April. Till is hoping for the same, after his previous 17-0-1 record was tarnished by two losses.
UFC 244 EMBEDDED: EPISODE 1
On Episode 1 of UFC 244 Embedded, middleweight Gastelum wraps up training camp for his fight against Till with sparring and a family meal. Headlining welterweight Masvidal travels via private plane alongside his father, coach Mike Brown, and UFC 244 heavyweight Andrei Arlovski. Brazilian light heavyweight Johnny Walker reports for duty, eager to take on Ultimate Fighter winner Corey Anderson.
UFC 244 EMBEDDED: EPISODE 2
On Episode 2, a high-energy Gastelum lands in New York City. Light heavyweight Johnny Walker ventures into Times Square in search of a haircut. Masvidal impersonates an Arabic pop star and greets fans before joining his team, including Arlovski, for a suit fitting.
UFC 244 EMBEDDED: EPISODE 3
On Episode 3, Gastelum takes a call from lightweight champion Khabib Nurmagomedov. Opponents Anderson and Walker check in for fight week, as does honorary New Yorker Stephen Thompson. Masvidal makes the rounds at ESPN, and inimitable headliner Diaz opens up about hat position and childhood banana vandalism.
UFC 244 EMBEDDED: EPISODE 4
On Episode 4, welterweight "Wonderboy Thompson" trains with his coach and father; Gastelum trains at the facility belonging to Renzo Gracie, whose grandfather created Brazilian jiu jitsu. Fans rally behind both coasts at the open workouts, where headliners East Coast representative Masvidal and Left Coast bad bay Diaz entertain with words.
UFC 244 EMBEDDED: EPISODE 5
On Episode 5, fans from around the world mob Diaz on the streets of New York. Gastelum's energy stays high as he starts to sweat off the extra pounds. Opponents face off at Ultimate Media Day: light heavyweight title hopefuls Anderson and Walker; welterweights Thompson and Vicente Luque; Diaz and Masvidal. Gastelum poses solo, and later in the day his opponent Till arrives in the States after an unexpected delay in London.
UFC 244 EMBEDDED: EPISODE 6
On Episode 6, after a wild week of lead-up, official weigh-ins are blissfully uneventful as everyone hits their mark. Later that day, opponents face off one final time at Madison Square Garden at the ceremonial weigh-in, where none other than Dwayne "The Rock" Johnson oversees the main event staredown and announces his next movie project.