Years before he became only golfer in history to win all four professional major championships in a row, Eldrick Tont "Tiger" Woods was introduced to the sport before his first birthday by his father, Earl.
This #ThrowbackThursday we look at Woods' path from being a pint-sized golf prodigy to winning 80 PGA titles and the second-most Grand Slam titles in history.
TIGER WOODS ON MIKE DOUGLAS
''When Tiger was 6 months old, he would sit in our garage, watching me hit balls into a net. When he got out of the high chair, he had a golf swing.''
— Earl Woods, on son Tiger
In 1978, at the tender age of two, Woods' golf game had grown to the extent that he was invited on The Mike Douglas Show to demonstrate his skill in front of fellow guest and golfing aficionado Bob Hope.
TIGER WOODS ON THAT'S INCREDIBLE
Three years later, with a number of youth tournament titles to his credit, Woods golfing exploits were chronicled by host Fran Tarkenton on ABC's That's Incredible.
Woods first defeated his father, a single-digit handicap amateur golfer, at the age of 11, and would never lose to him again. At age 12, Woods broke 70 on a regulation golf course for the first time.
In 1991, Woods was a student at Anaheim's Western High School, when he became the youngest winner of the USGA Junior Amateur Championships at age 15 years, six months, and 28 days.
In April of 1992, CBS Sunday Morning anchor Charles Kuralt referred to Woods as "the most exciting 16-year-old golfer ever." The program followed the teenager on the amateur circuit, and talked with Woods' parents, and with pro golfer Calvin Peete, one of the rare black players to have made it in the sport up to that point.
On April 13, 1997, Woods became the youngest champion in Masters history at age 21, also setting Tournament records for 72-hole score and margin of victory. Two months later, he set the record for the fastest ascent to No. 1 in the official world golf rankings.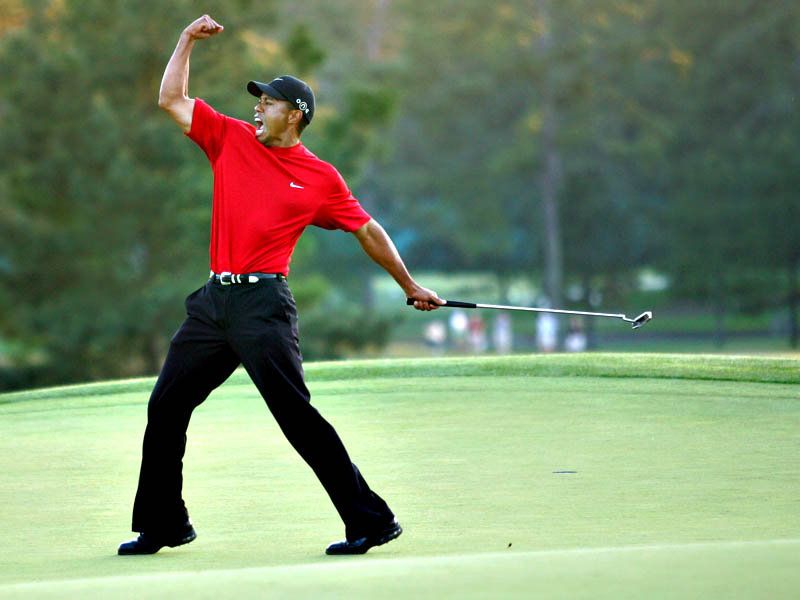 The same year, Woods was named the PGA Player of the Year for the first of a record eleven times.
After setting an unprecedented pace in racking up tournament victories, Woods — battling a bad back — hit a five-year dry spell without a win that was finally broken with a return to form late in 2018.
Woods got back in the winner's circle for the 80th time in his PGA Tour career on September 23, 2018, when he won the season-ending Tour Championship at East Lake Golf Club. He shot rounds of 65-68-65-71 to win by two strokes over Billy Horschel.
While Woods' resurgence was one of the biggest sports stories of 2018, the following year had an even greater surprise in store. Woods hadn't won a major tournament since his dramatic triumph at the 2008 US Open that saw him hobbling on the course with a gimpy knee, but then came the 2019 Masters.
Woods put on a show for the ages to win his first major in more than a decade when he bested Dustin Johnson, Brooks Koepka aand Xander Schauffele by a single stroke, and in the process cement his place as the greatest golfer of all time.