This coming Saturday at Marvel Stadium in Melbourne, Australia, middleweight champion Robert Whittaker will attempt to defend his belt against interim champion Israel Adesanya in the UFC 243 main event. In other action lightweights Al Iaquinta and Dan Hooker will square off for the opportunity to move up the divisional rankings.
UFC 243: WHITAKER VS ADESANYA
New Zealand-born Aussie Whittaker will be returning to the octagon for the first time in more than a year, after being sidelined by a dual surgery for due an abdominal hernia of the intestine and a twisted and collapsed bowel. A victory over Adesanya would extend his current win streak to ten.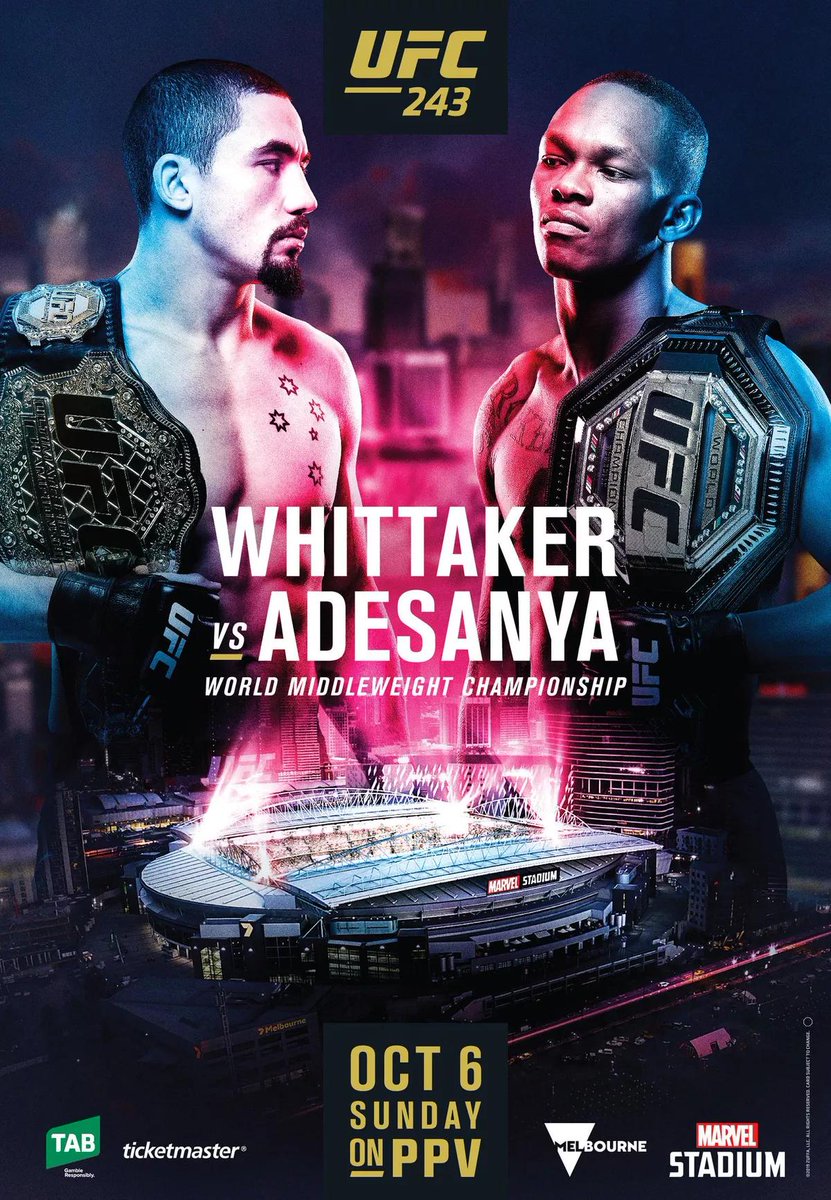 Nigerian-born New Zealander Adesanya hopes to keep his 17-0 record intact and to walk away with the unified belt after winning the interim title against Kelvin Gastelum at UFC 236 in April of this year.
UFC 243: IAQUINTA VS HOOKER
Iaquinta, who became a household name after performing admirably against Khabib Nurmagomedov at UFC 223, is looking to bounce back after dropping a five-round battle versus Donald "Cowboy" Cerrone. Hooker is coming off a first-round KO win versus James Vick which earned him the Performance of the Night bonus at a UFC on ESPN event in July.
UFC 243 EMBEDDED: EPISODE 1
On Episode 1 of UFC 243 Embedded, Whittaker enjoys the calm before the storm, playing video games and wrangling his kids for a family photo shoot. Iaquinta acclimates to Australia with a rigorous workout in the gym. Adesanya and Hooker are greeted at the Melbourne airport with a traditional haka.
UFC 243 EMBEDDED: EPISODE 2
On Episode 2, Iaquinta enjoys the benefits of uber healthy vegan dining out Down Under. Adesanya fortifies his immune system with floor blueberries, as opponent Whittaker arrives in Melbourne with his wife. New Zealander Hooker explains the business behind his callout of "Raging Al" and does an interview at Marvel Stadium.
UFC 243 EMBEDDED: EPISODE 3
On Episode 3, Adesanya meets NBA legend Paul Pierce, gets his own championship ring, and trains alongside teammates Hooker and Brad Riddell, who is also on the fight card. Heavyweight Tai Tuivasa drops weight and sharpens skills in the gym.
At fighter check-in, Iaquinta makes plans for Hawaii with welterweight Maki Pitolo, who later went sightseeing with his family. Bantamweight Khalid Taha pays respects to divisional king Henry Cejudo, while welterweight Dhiego Lima gets food delivered, and middleweight champion Robert Whittaker keeps it understated as he braces for "the biggest fight ever."
UFC 243 EMBEDDED: EPISODE 4
On Episode 4, Whittaker daydreams about sweets on his way to a photo shoot at Marvel Stadium. UFC 243 athletes and teammates Adesanya, Hooker and Brad Riddell continue to train together. Interim middleweight champion Adesanya drives a luxury car to meet with fans and a street artist. Iaquinta is joined by his legendary coaches Matt Serra and Ray Longo.
UFC 243 EMBEDDED: EPISODE 5
On Episode 5, Tuivasa teases his teammates, including UFC newcomer Justin Tafa. Whittaker has strong words for certain superheroes and their weaknesses, with a particular focus on Ant-Man. He and Iaquinta do interviews at Marvel Stadium before heading to the outdoor open workouts at Federation Square. Lightweight Hooker kicks things off, and Adesanya shows off his striking and styling.
UFC 243 EMBEDDED: EPISODE 6
On Episode 6, Iaquinta and Whittaker suit up for Ultimate Media Day. Their respective opponents, Hooker and Adesanya, also attend, as do heavyweight foes Tuivasa and Serghei Spivac. After matchup staredowns in front of cameras, Saturday morning brings the weigh-in at Marvel Stadium, where they repeat the process in front of fans.